About Us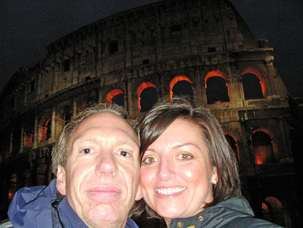 Hello, we are Robin and Leslie Nance. We are the owners and operators of Robin Nance Antiques and Clock Shop, as well as the eBay business MarketSold. We have been serving Fort Collins for over 10 years. We fulfilled our dreams of living in Colorado when we moved here from Dallas, Texas in 2002. We share our home and business with a very special labradoodle named Edison. No doubt you will be eagerly greeted by him when you visit our shop. We love travel and take every opportunity to do so. We love Europe but also travel the United States looking for rare and unusual antiques, art and clocks. We also love the outdoors and spend many weekends crawling all over our great mountains! We are passionate about our business and love what we do. Preserving and restoring clocks to working condition is a rewarding job.

Robin is retired from a career of race car driving and instruction. He was trained in clock repair while in his twenties and after retiring from the racing world pursued that interest. He has been repairing clocks professionally since 1985. His fascination with clocks and how they work was spurred by an interruption of sleep while visiting his grandparents. In the middle of the night he was awakened by a chiming clock that was in his grandparents living room. The first thought was to unplug it, but much to his surprise there was no cord. The next morning he asked about the clock and how it worked and as his grandfather explained how the clock worked by winding it up a future clock repairman was born. This lead to a vast collection of fine mechanical clocks. As a collector he quickly learned there was only one correct method but many wrong ways to repair a clock. So he began an apprenticeship with a master clockmaker to learn the proper methods. After years of training and retiring from racing he began repairing clocks professionally. Now as a veteran of the profession he is well educated in the correct way to repair a clock. Hundreds of customers trust their family heirlooms to him every year!

Leslie is a career marketing professional. Her specialty was working with relationship building tools between a company and their customers for large retail companies. She started working full time with Robin in the antiques and clock shop after their move to Fort Collins. Antiques and art have always been a passion of hers. Her father is an artist and taught her about technique and structure of art and this lead to her passion for collecting and traveling to see art all over the world. The appreciation for fine art runs deep for her. Oddly enough when she was young her great-grandfather and grandfather were antique dealers. Her favorite room in her great-grandfathers farm house in Oklahoma was full of old clocks, keys, watches and oddities he had collected. This was the place that she would love to go and just sit and stare at all the items. She remembers sitting on a stool, with a coca-cola in a glass bottle, while her grandfather would show her old things and explain their age and rarity. Now she shares these passions with her husband as they treasure hunt throughout the world!



---
Watch Robin's Track Time in a Ferrari 458 Italia